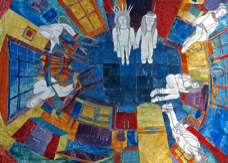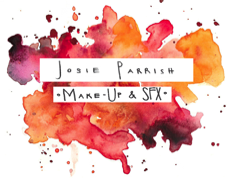 Oli Parrish is an artist based in Falmouth, Cornwall, who is able to offer a commission service to create unique paintings, drawings and collages.
He specialises in abstracted interior views, often including representations of the people who bring them to life and he interprets the composition and detail to reflect his experience there.
Recent work has included the development of patterns and shapes using special colour pallettes.
Pieces can be made to desired sizes and colours and Oli can work from photographs, although he prefers to make sketches from life and experience the space himself if possible.
Please feel free to contact him if you would like to discuss any projects or just find out what is possible.
Josie Parrish is a make up artist based in Bristol who has recently completed her studies at the Arts University Bournemouth studying BA (Hons) Make-up for Media and Performance.
Josie has applied make-up, prosthetics and hair creations for several short films, theatre productions and photoshoots.
As well as working on set bringing hair and make up designs to life, she is passionate about the designing and making of prosthetics and special make up effects. She prides herself in keeping up to date with new and innovative makeup techniques and products, and has a great knowledge base within all areas of makeup application and hair styling.
She has a full understanding of the importance of continuity and how to achieve it. With her wide ranging skills she is able to develop creative solutions to the demands and challenges that may arise on location or in the studio.


Sky at Night Magazine. The world's best practical astronomy magazine and website, Sky at Night has telescope reviews, advice for observing the night sky, beginners astronomy, and how-to guides.

Bognor Regis and District Motorcycle Club. My local trials club. Observed trials events are organised almost every Sunday during the year, mostly in venues around the South Downs. Practice days every third Sunday of the month at Halnaker Chalk Pit.

Trials Central. The Internet's leading portal dedicated to the sport of Observed Motorbike Trials. Great forum for advice and tips and manufacturer-specific help with maintenance.
I have posted my clutch modification here.

Sky at Night Magazine. I am fortunate to have been commisioned to write a number of "How To" practical projects for the magazine (follow link to see examples in my Sky at Night gallery), as well as several reviews and group tests.
Star gazing remains a favourite activity and fascinating opportunity to make gadgets and accessories!